Native American Indian writers born around 1940 and thereafter have been publishing their prose and poetry in a literary atmosphere that has learned to read them as they would want to be read, and as their readership is increasing, so is their output. Of the many noteworthy writers and poets we cannot treat more than a handful, however briefly. Still, a by far from exhaustive list would have to include James Welch, Simon J. Ortiz, Linda Hogan, Leslie Marmon Silko, LeAnne Howe, Luci Tapahonso, and Louise Eldrich. They and many other Native American writers and poets are treated by The Native American Authors Project.
Like N. Scott Momaday's main protagonist in House Made of Dawn, Leslie Marmon Silkos' s protagonist in Ceremony (1977), which drew immediate attention to itself, is also torn between two ways of life, unable to belong to either. But Silko's story is also a spirit story, which runs parallel to the main narrative. Her Almanac of the Dead (1991) is more political in nature, and prophesies the restoration of the Americas to their original inhabitants. Silko (b. 1948), part a Laguna Pueblo and part Mexican, returns to several of that novel's themes in Yellow Woman and a Beauty of the Spirit (1993), a collection of essays on Native American life.
LeAnne Howe (b. 1951) of the Choctaw Nation has been bringing a heady mix of her special Native American imagination for fiction and her personal flair and playful humor to her highly original and enjoyable writings. Her first work of fiction, Coyote Papers, came out in 1985. Her Shell Shaker (2001) is, in the final analysis, is a takeoff on science fiction. The action in the novel alternates between 1738, as a Mississippi Choctaw family prepares for war against the English, and the 1990s, as their Oklahoma descendants, the Billys, fight a Mafia takeover of the tribe's casino. In trouble with the law and in the fight of their lives, the Billy women must find a way, as their ancestors had done, to join forces. Humor and toughness are the Billys' only weapons – until the Shell Shaker shows up.
Luci Tapahonso (b. 1953) is a prolific poet and storyteller who, through her readings of her books and poems has helped introduce Native American themes to a wider audience. Raised on the Navajo homeland of Dinétah, she later combined English prose and poetry with Navajo phrases, oral styles, songs, and prayers. Tapahonso published her first two volumes of poetry, One More Shiprock Night and Seasonal Woman, in 1981 and 1982 respectively. Along with A Breeze Swept Through of 1987, her poems indicated the special binds that Tapahonso feels to her family, her heritage, and to the land of Dinétah. They, along with Tapahonso's subsequent volumes of poems and stories, also reveal the presence of the Navajo storytelling tradition. Wide critical acclaim was given to Tapahonso's works with the publication of Sáanii Dahataal: The Women Are Singing (1993), in which she discusses the importance of mingling of languages, and Blue Horses Rush In (1999), in which she analyzes Diné storytelling tradition and her use of it in her poems and stories, thus leading to an "exploration of possibilities".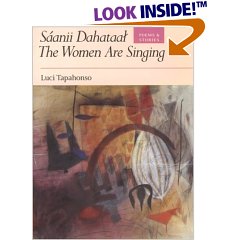 Luci Tapahonso's Sáanii Dahataal: The Women are Singing. Click on the cover to look inside.
Louise Eldrich's works have appeared in various journals including the New England Review and Redbook, as well as anthologies of Native American writing. Eldrich, an Anishinnabe (b.1954), has published poetry collections as well as novels. Her novel, Love Medicine (1984), was published to loud acclaim and was followed by several others, extended histories of families dealt with in Love Medicine. The Painted Drum, her new novel, explores the strange power that lost children exert on the memories of those they leave behind.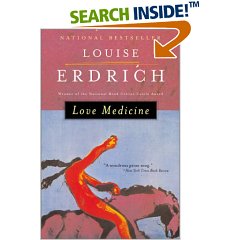 Louise Eldrich's acclaimed novel, Love Medicine. Click on the cover to look inside.
Recommended Web Resources
For a biography of Leslie Marmon Silko go to

For a comprehensive bibliography by Silko go to

Leslie Marmon Silko's Homepage is at

For a very special hypertext entitled "American Paradoxes in Leslie Marmon Silko's Ceremony" with a summary of the book and rich information on Indians and American history go to

For a summary of Ceremony go to

For an insightful essay on Silko's Ceremony go to

To read the essay "The Border Patrol State" from the author's new book Yellow Woman and a Beauty of the Spirit, which deals with what Silko considers to be the U.S. government's continuing war on Indian America along the border with Mexico, go to

For some excellent online articles and studies related to Leslie Marmon Silko go to

For an interview with Silko go to

For classroom issues and strategies for Leslie Marmon Silko go to

For a biography of LeAnne Howe go to

For a bibliography of LeAnne Howe go to

For a comprehensive site on LeAnne Howe with a bibliography go to Native American Authors at

To read the story "Indians Never Say Good-bye" (1987) go to

To read the story "The Chaos of Angels" (1994) go to

To read "Choctalking on Other Realities"(1997) go to

For a summary of Shell Shaker go to

For an interview about Shell Shaker go to

For Howe's activities as a performer go to

To hear Howe read four of her poems go to

For a biography of Luci Tapahonso go to

For a bibliography of books by, on and about Tapahonso go to

To read the poem "Better to Avoid Her" from Seasonal Woman go to

To read the poem "Her Daughter's Eyes" go to

To read "A Rough Life" (from Seasonal Woman 1982) go to

To read the poem" A Discreet Conversation" (from A Breeze Swept Through, 1987) go to

To read the poem "Hard to Take" (from Seasonal Woman, 1982) go to

To read the poem "Hills Brothers Coffee" (from Sáanii Dahataa

The Women Are Singing, 1993) go to

To read "In 1864" (prose, from Sáanii Dahataa

The Women Are Singing, 1993) go to

To read the poem "It Has Always Been This Way" (from Sáanii Dahataa

The Women Are Singing, 1993) go to

To read the poem "Light a Candle" (from Sáanii Dahataa

The Women Are Singing, 1993) go to

To read the poem "Outside a Small House" (from Sáanii Dahataa

The Women Are Singing, 1993) go to

To read the poem "Pay Up or Else" (from Seasonal Woman, 1982) go to

To read the poem "Prayer" (from Seasonal Woman, 1982) go to

To read the poem "A Rough Life" (from Seasonal Woman, 1982) go to

To read the poem "Sháá Áko Dahjiníleh Remember the Things They Told Us" (from Sáanii Dahataa

The Women Are Singing, 1993) go to

To read the poem "She Sits on the Bridge" (from Earth Power Coming, 1983)

To read further poems by Luci Tapahonso go to

For a number of further texts by Luci Tapahonso go to

For an audio file of an interview with Luci Tapahonso go to

For a biography of Louise Eldrich go to

For a bibliography of Eldrich go to

For a list of reviews of Eldrich's works from The New York Times, some online, go to

To read "Saint Marie", a story by Eldrich go to

To read about Louise Eldrich's books go to the Harper Collins site at

To read the essay "About Eldrich's Poetry" by Alen Shucard go to

For links to information on Eldrich's major works go to

For an interview with Eldrich go to Salon interviews at

For an Eldrich interview, "An Emissary from the Between-World," go to

For external links for Eldrich go to